Dietary or Food Supplement Global Market is Booming!
Post date: 12/08/2017 10:07 Hits: 226
Global Dietary Supplements Market is Expected to Reach around USD 220.3 Billion in 2022!
Zion Market Research has published a new report titled "Dietary Supplements Market by Ingredients (Botanicals, Vitamins, Minerals, Amino Acids, Enzymes) for Additional Supplements, Medicinal Supplements, and Sports Nutrition Applications - Global Industry Perspective, Comprehensive Analysis and Forecast, 2016 – 2022". According to the report, global dietary supplements market valued at USD 132.8 billion in 2016 and is expected to reach USD 220.3 billion in 2022 and is anticipated to grow at a CAGR of 8.8% between 2017 and 2022.
Mineral and vitamin supplements are types of dietary supplements containing micronutrients intended to help a human body function smoothly and enhance mental health. Botanical or herbal supplements are dietary supplements that are used for medicinal purpose. Botanical dietary supplements usually support a particular area of the body's health, such as the skin, liver, and bone.
The global dietary supplements market is primarily driven by increased consumer awareness for preventative healthcare along with aging population. Growing influence of media development in the pharmaceutical and retail industries and rapid advancements in dietary supplement product are some of the factors impacting the dietary supplement market growth. However, negative publicity and fake product claims are expected to hamper the overall growth of the market in the forecast period.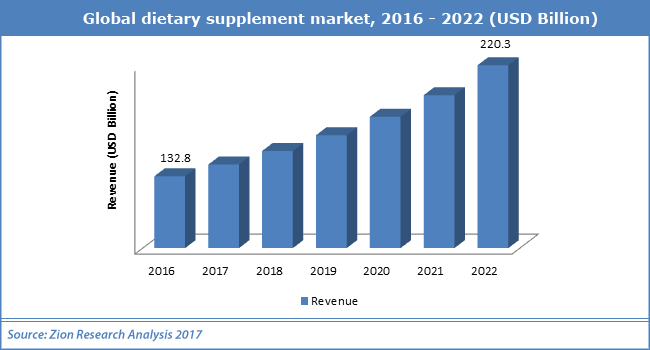 On the basis of application, the global dietary supplements market is classified into an additional supplement, medicinal supplement, sports nutrition applications. Among all segments, additional supplements the largest application segment of dietary supplements market in 2016. Sports nutrition segment is also expected to be one of the fastest growing segments dietary supplements market owing to increasing number of health clubs and fitness centers. By ingredient type dietary supplements is divided into botanicals, vitamins, minerals, amino acids, enzymes. Vitamin supplement was used extensively and accounting for around 42% of global market share in 2016.
Geographically, Asia-Pacific was the largest market for dietary supplements in 2016. It accounted for more than 31% share of the total volume of dietary supplements market. Furthermore, this trend is anticipated to continue in coming years. The market growth in the Asia-Pacific has mainly attributed consumer awareness about the benefits of dietary supplements and wide product availability in the region. Asia Pacific was followed by North America and Europe in 2016. North America and Europe are estimated to have moderate growth for dietary supplements in near future. North America accounted for around 28% of the total market in 2016 and is projected to witness growth owing to increasing consumption of products with reduced calorie level and high nutritional content. Furthermore, Latin America, Middle East, and Africa are projected to witness the decent growth for dietary supplements market owing to the consumer awareness regarding dietary supplements benefits to health.
Article Source: www.zionmarketresearch.com